Synchronization of Oscillations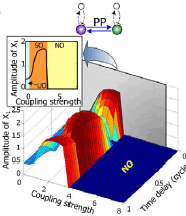 New work published in February 2010 shows that weak coupling between cellular oscillators can lead to rapid synchronization. With such a strong effect, there is often no need for cellular processes to be connected to any centralized or controlling clock.
See the work with colleagues from Department of Bio and Brain Engineering, Korea Advanced Institute of Science and Technology (KAIST) in Journal of Cell Science
Kim J-R, Shin D, Jung SH, Heslop-Harrison P, Cho K-H. 2010. A design principle underlying the synchronization of oscillations in cellular systems. Journal of Cell Science doi: 10.1242/jcs.060061 (password for this link only)
A movie film shows the induction of synchronization by the interactions.
Lecture to the BSBI June 2010
DNA extraction
Pat Heslop-Harrison talked about DNA and Chromosomal Evolution to the Botanical Society of the British Isles at their Annual General Meeting.
The lecture slides are linked here (4.5MB PDF).
DNA extraction was as follows:
25 ml "Smoothie" drink (mashed banana or kiwi works as well but takes a bit longer)
12 ml water
5 ml hair shampoo (technically, one that contains a non-ionic detergent like SLS/SDS - sodium lauryl sulfate or sodium dodecyl sulfate - EDTA, and sodium citrate)
2 large pinches of salt
Stir together (try to avoid foaming) and leave 5 min
Pour into a coffee filter and allow to drip through for 15 min
Add 25 ml ice cold alcohol/ethanol - UK standard 40% vodka will not work well; I used Irish Poteen at 60%; strong rum is also suitable; or rubbing alcohol)
Wait 2 to 10 min, and the DNA will precipitate out as white, sticky, fibrous strands. (If you want to purify further, you can pour off the alcohol/water/protein/salt/detergent liquid, rinse the DNA with more alcohol, and redissolve the DNA in water, then reprecipitate).
The shampoo gently disolves the cell membranes and proteins, leaving the DNA intact, the EDTA stabilises the DNA from enzyme attack, and the salt-sodium citrate is a weak buffer. DNA is soluble in salt solutions but not in dilute ethanol, unlike most other cellular components which are insoluble (filtered out) or remain dissolved.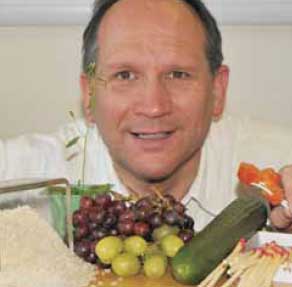 We are all involved with the dissemination of the science we
do. But in the connected world, what is meant by dissemination? Think about where you find out about experimental biology– your own areas of interest, and the subject in its much broader context. Key sources of information about what is happening – the breakthroughs, the details and the controversies – will come from a
wide range of sources. While
information overload is infinitely
preferable to information deficit, how do you filter the amount of information which could reach each one of us?
Full SEB Bulletin March 2010 here.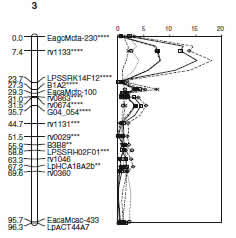 Olli Anhalt, who completed her PhD working with Susanne Barth at TEAGASC, Ireland, and in Leicester, has identified a major QTL for fresh and dry weight which explains around 30% of the phenotypic
variance in a large field experiment involving 360 F2 plants. The discovery of loci with such huge genetic effects is very important for understanding how to increase yield of grasses and biomass crops more generally. The full results are in: Anhalt UCM, Heslop-Harrison JS, Piepho HP, Byrne S, Barth S. 2009. Quantitative trait loci mapping for biomass yield traits in a Lolium inbred line derived F2 population. Euphytica 170: 99-107. doi: 10.1007/s10681-009-9957-9
(first link needs password, second needs subscription)
DNA Satellite Evolution
Guto Kuhn reports for the first time interspersion between non-homologous satellite DNA repeats in Drosophila. The article features on the Heredity website for May 2009

Molecular analysis of satellite DNA junctions revealed that they have evolved by multiple events of illegitimate recombination with subsequent rounds of unequal crossing-over expanding the copy number of some junctions.
This work also revealed satDNA monomers organized as higher-order repeats – a rarely reported feature in the Drosophila genus. (Link here our other work on Drosophila satellite DNA.)
See full paper at: Kuhn GCS, Teo CH, Schwarzacher T, Heslop-Harrison JS. 2009. Evolutionary dynamics and sites of illegitimate re-combination revealed in the interspersion and sequence junctions of two nonhomologous satellite DNAs in cactophilic Drosophila species. Heredity 102: 453-464. doi: 10.1038/hdy.2009.9.
Colour plate linked here.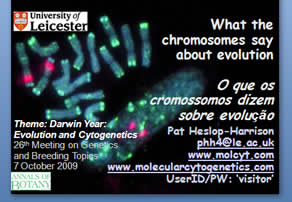 26th Conference on the Theme of Genetics and Breeding: University of Sao Paulo, Piracicaba, Brazil, October 2009
In an exciting meeting focussing on Darwin, evolution and cytogenetics, Pat Heslop-Harrison presented a talk on "What the chromosomes say about evolution", (link to PDF click here - quite large file) starting with quotations from Darwin and then showing how experimental work with crop species shows chromosome evolution in action. This information is used for crop improvement.
European Cytogeneticists Association - 7th European Cytogenetics Conference, Stockholm, 4-7 July 2009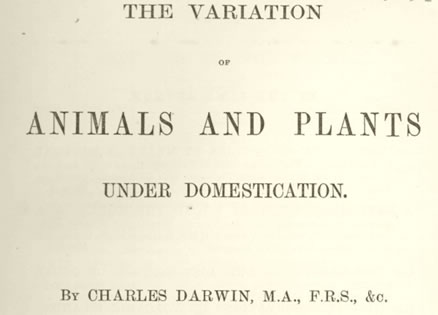 Pat Heslop-Harrison presented a plenary lecture on Darwin, Domestication and Plants. A PDF of the presentation is linked to the title. The article by Charles Darwin's son, Francis, published in 1899 entitled The Botanical Work of Darwin in Annals of Botany is a relevant reference. The webresource with the full text of all of Charles Darwin's writings at http://darwin-online.org.uk/ is extremely valuable.