News

Back to Home
Updated 23 July, 2010 12:16
BioAstral funded to develop expertise and markets 2010
BioAstral ishas been awarded funding to develop its expertise and technology in hyperspectral imaging.
BioAstral presents at the ESA Investment Forum April 2009
BioAstral is delighted to announce that it is one of only three UK companies selected to present at the prestigeous ESA Investment Forum 2009 in Belgium. As the Forum notes, "The future of technology starts now".
BioAstral a successful space-non space technology transfers
BioAstral has been mentioned to the UK Government Select Committee on Science and Technology as a space-based new technology company.
New technology grant moves BioAstral instrumentation forward
BioAstral is delighted to announce that it has been backed by the DTI (UK Government Department of Trade and Industry) to develop its revolutionary biomedical imaging technology. The innovation is described in our May 2006 PDF information release. The technology will revolutionize all assays in biomedicine and biotechnology that rely on imaging by allowing for the first time measurement of the color and brightness of signals from assays at the photon level. Early work will lead to new tests of drug responses through novel assays of genes and gene expression.
Investment Ready
BioAstral intends to secure significant external investment, leading to the availability of its world-leading instrumentation to biomedical researchers in academic and commercial laboratories. Read the PDF here for the full story.

See also information about our business plan below and the contacts page.
Instrument One: Under construction
The detector unit of the first BioAstral instrument is under development using new cooling solutions suitable for biomedical laboratories. Cooling tests, hold time and vibration properties are being characterized.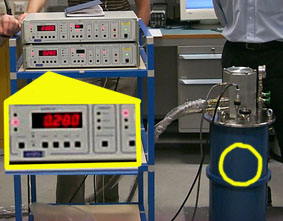 The cooling system (the blue column on the right of the picture) is running and the display reads 0.280 Kelvin - yes, 280mK or 0.28 degrees above absolute zero. The detector is placed within the column in the circled region and connected by one of the black fibre-optic cables to the microscope with the biological sample reader.
---
Business Plan
We are ready to build our development instrument and building partnerships with key users. Please see the contacts page on this site to request further information.